I am a fan of the webcomic XKCD and tend to read it at least weekly.  The writer is a very clever and well versed in science and his degree is in physics.  Some of the most amusing scientific oddities are discussed in his What-If column.
So why am I disappointed?  He recently wrote an article about how foolish it is to think global warming is over because of the recent cold snap that has been taking place in the midwest and eastern US.  Certainly I agree that taking weather events and using them as the basis for long-term trends is folly.  No, my disappointment is with his analysis itself.  Here is the webcomic.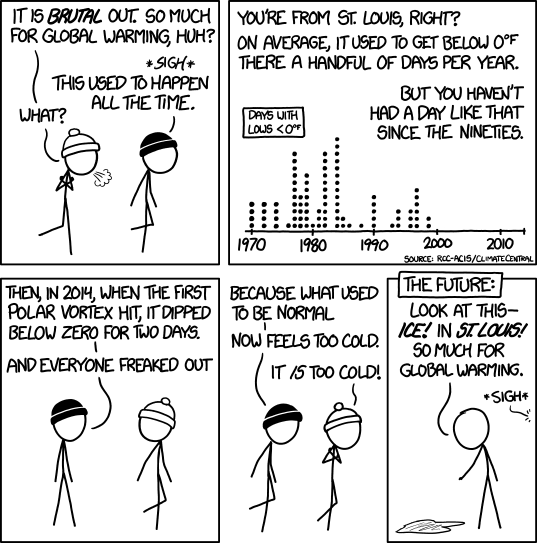 He is nice enough to provide the source of his data which is not an actual source of data, but a pro global warming website known as climate depot.  If you are going to source data, please use the real data source and not the intermediary.  Climate Central Depot is the kind of place that will show the temperature trend from Central Park in New York and take that seriously.
Aside from that problem, it was the scale of the analysis that really disappointed me.  Picking 1970 as the starting point seems awfully one sided and ultimately the problem with almost all global warming material.  I have long argued that trends on anything less than 1,000 year time scales are meaningless.  The problem is that finding longer term data is always tricky.  If I had only looked from 1970 forward, even I might have concluded that global warming was something to pay attention too.
However the data he found was very specific and from a big city.  It was also incorrect which shouldn't be surprising considering the original source that he used.  I found this NOAA dataset for St. Louis, MO.  Lower on the page is also a dataset for Columbia, MO which is due west of St. Louis.
Here are the charts of the data from the NOAA site.
It is possible to see the differences in the climate depot data he used and the actual NOAA data for St. Louis.  It should also be no surprise that Columbia experiences more extreme cold because St. Louis will have a UHI effect, even in the winter.  It is also evident that picking 1970 was especially useful if showing a downtrend is the goal.  28 of the 38 years from 1920-1957 had zero days at or below zero.
Columbia which experiences the same climate, but less UHI effect shows little of significance.  On average over the past 120+ years there is an average of 4.5 subzero days.  In 3 of the past 5 years (including only January of 2014) they have had at least 4 such days.  Columbia is showing no signs of change.
What is most interesting is looking at the most extreme temperatures for the two locations over the entire time frame.  What it shows is the expected cyclical behavior that is typical of climate to those that pay close attention.
Both locations show periods of time where there is more instances of extreme cold.  There are also periods where there is little extreme cold.  When all things are considered, it seems likely that the next decade will have an upswing in the number of extreme cold events that reach the Midwest.  I suppose that we will have to get used to hearing this all blamed on the Polar Vortex.
**Correction**
I meant Climate Central, not Depot as correctly pointed out and shown in the actual comic.  Ooops.
Posted in General by inconvenientskeptic on January 29th, 2014 at 11:47 am.